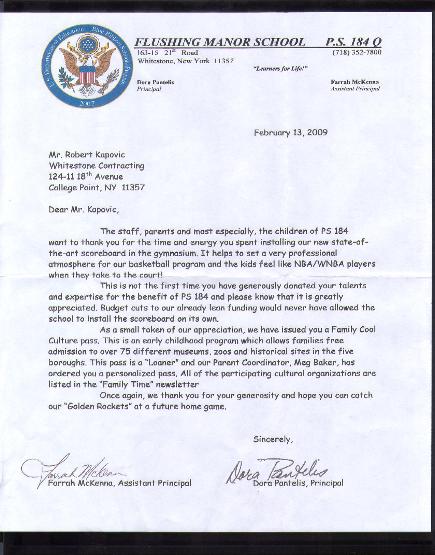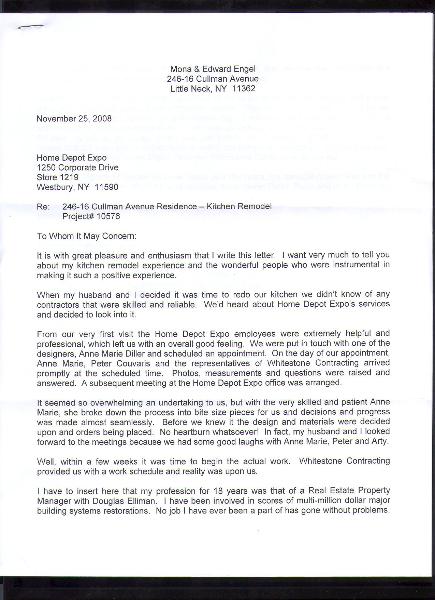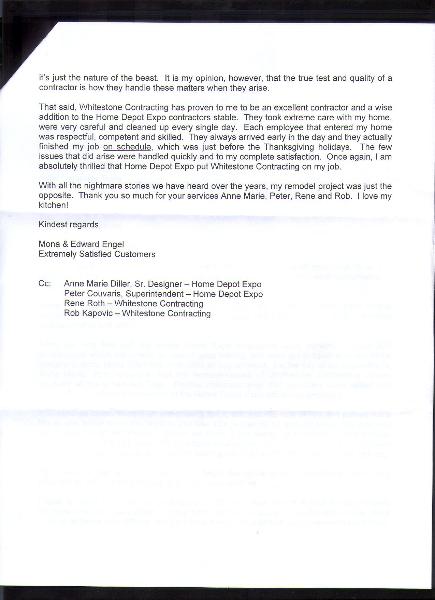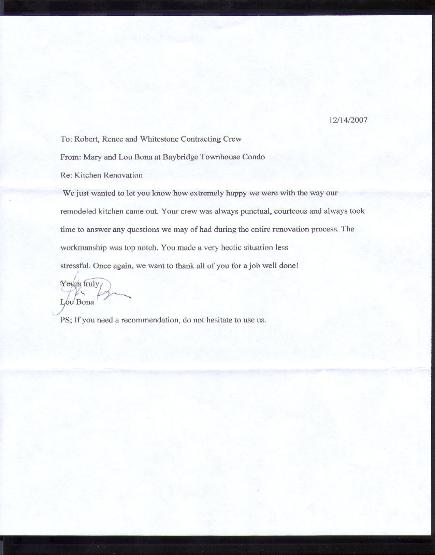 Dear Rene

We knew that any renovation would be a daunting task but actually doing it and surviving it is quite a feat . Thank you for completing the project with us.
Balancing the original design, the technical problems and the Co-op restrictions and most of all the estimated budget was quite a challenge and your cooperation and decisiveness and prompt response helped tremendously toward achieving our goal. The project was finished on time and the crew's behavior was professional. After completion your quick response to some unfinished business and minor details was most appreciated.

Good luck to you and your enterprise.
Yours truly
Cecelia & Gus Auyeung
Oct 6 2009
September 22, 2009

Whitestone Contracting
123-11 18th Ave.
College Point, NY 11356

Dear Rene,

I lived in my apartment for 5 years and interviewed many contractors before deciding on Whitestone. I'm so happy I waited.

You were the only contractor to understand the vision I had for the renovation but more importantly, you executed it perfectly. You worked patiently with me on every detail even when I made design changes. You remained calm and professional through out it all. We discussed any budget adjustments in advance thereby eliminating any surprises.

Your team of craftsmen was highly skilled in every aspect of the job, even down to the final clean-up. They adhered to the requirements of the Coop board with arrival and departure times and noise levels.

Needless to say, the apartment looks absolutely fabulous; it has created quite a "buzz" around the building with neighbors wanting to get a "peek".

You've made it a place I hate to leave, but love to come home to.

Again, many thanks.

Iris Crews
Very truly yours,
Gerry Caputo
April 22, 2005

To whom it may concern:

I am writing this letter to let prospective customers of Whitestone Contracting know how highly I regard the company. Whitesone Contracting came to my rescue after my house experienced a terrible accident. Two trees fell on my home and garage causing serious and terrible damage. Whitestone contracting acted quickly and expeditiously. They were honest and forthright. Their workers were excellent, polite and helpful and the quality of their work was superb.

The owners helped me deal with the insurance adjustors and engineers and any request I made was fulfilled. I highly recommend Whitestone Contracting to anyone needing work done in the home. Choosing Whitestone Contracting is the correct choice for any consumer. They were truly a pleasure to work with and my home looks better than new.

Sincerely,

Leslie Topper
Michael Gilbert
143-50 Hoover Avenue Apt. 602
Briarwood, NY 11435

November 11th, 2005

Mr. Robert Kapovic
Mr. Rene Roth
Whitestone Contracting Associates Inc.
123-11 18th Avenue
College Point, NY 11356

Dear Rob and Rene,

I would like to take this opportunity and a moment of your time to thank you for a wonderful experience. We have been considering a remodel to our bathroom for a long while and have heard so many stories of bad experiences. I am proud to say that from the first day you entered my home, there was a feeling of comfort and trust. I have to admit, I was prepared for the worst but am amazed at the result. I can't thank you enough for the care you took to the rest of our home, the protection to our furniture, newly finished hard wood floors and walls, and the concern everyone employed by your company exhibited. Not only that, but also the politeness and respect that your entire staff has for your clients. It was truly a great experience and I will employ your company again in the future and recommend you to everyone I know, as I have already done.

The best part is that we now have the most outrageous bathroom in Queens. I would have never believed that it would look as it does. Friends and family have remained speechless after seeing the design and workmanship. Kudos to you and your company for your attention to detail. I know that I was very particular in my direction, but in every case, the plan was followed out and delivered. In addition, only having one bathroom, time was of essence and you delivered an operational bathroom as you promised. What more can we have asked for.

In closing, I would like to thank you both again for a wonderful experience. You were both a pleasure to work with and we will have future dealings together.
From: Mbalterkap@
To: GCaputoBRCoop@
Sent: 4/6/2011 3:38:13 P.M. Eastern Daylight Time
Subj: Unbelievable!

Hi, Gerry! I will eventually write a formal letter to the board, and cc. it to Jerry and Whitestone, but I wanted to write this email to you, personally, because I know you were our savior and miracle worker! The men from Whitestone, including project manager Rich Harlow, did an incredible job, from start to finish. They were polite, efficient, did beautiful and impeccable work, and cleaned up beautifully before they left. I was blown away by their work ethic and their craftsmanship - qualities, unfortunately, that are rare nowadays. I actually had a good cry when I surveyed the result after they left - it was much more than I expected! I almost dropped dead when I saw the bedroom wall adjacent to the bathroom had been repaired. I had no idea that was included! Rich Harlow even gave me his card and asked me to call if I had any problem or questions. Whitestone is totally worth whatever they charge - and more!!! I was told that Ruperto will be completing the work, and will most likely come tomorrow to put up the shower door after it dries and repair the wall in the main bathroom. Then I will finally be back in business!!! Please don't hesitate to come down and take a look at the results. After all, you are responsible! Thank you, Gerry, from the bottom of my heart...

Marybeth

P.S. You'll probably see many of the same descriptive words in the formal letter I send to the board - but you saw them first!